Columbus, Cincinnati, and Cleveland Rank in the Top 10 Best Cities for Jobs by Glassdoor
Columbus, Ohio – September 2017. According to Glassdoor, Columbus ranks no. 7 in the top 25 cities for jobs, followed by Cincinnati at no. 8 and Cleveland at no. 9. The other top 10 cities include Pittsburgh, Indianapolis, Kansas City, Raleigh, St. Louis Memphis, and Louisville. Read more.
---
 Columbus Tops the List of The Best American Cities to Work in Tech in 2017
Columbus, Ohio – August 2017. According to SmartAsset, the capital of Ohio is the best place in the country for tech workers. Columbus climbed our ranks thanks to solid scores across the board, without any single metric scoring in the top 10. Columbus' best score came in the ratio of the average tech wage to the average wage across all fields. In that metric, the city ranked 12th. On average tech workers are paid 1.82 times more than the average worker across all fields. Read more.
---

thinkCSC Develops New Levels of Monitoring and Detection with CSCare Managed Security
Columbus, Ohio – June 2017.  No matter how vigilant we all believe we are being – and here at thinkCSC we have always taken security seriously – we all need to do more. Following NIST (National Institute of Security & Technology) standards, thinkCSC has developed new levels of security monitoring for our clients – increased levels of monitoring and detection that are designed to help keep your organization – and your data – even safer than it already is. The National Institute of Standards and Technology is a non-regulatory government agency that develops technology, metrics, and standards to drive innovation and economic competitiveness at U.S.-based organizations in the science and technology industry. As part of this effort, NIST produces standards and guidelines to help federal agencies meet the requirements of the Federal Information Security Management Act (FISMA).  Learn more.
---

thinkCSC Nominated Best Information Technology Company by Columbus C.E.O. Magazine
Columbus, Ohio – May 2017. thinkCSC is proud to announce that our firm is a finalist is Columbus CEO magazine's Best of Business 2017 in the category of Information Technology Companies. Voting is open now through July 14. Read more.
---
Columbus Ranks No. 4 for Happiest Workers
Columbus, Ohio – January 2017. Every city and state would love to claim that it's a great place to work. But without real data and trustworthy feedback from actual employees, there's no way to know which places are just marketing themselves—and which are legitimate oases of happy workers. kununu analyzed the data to discover where the happiest workers are.  Read more.
---
Columbus is 'Where History Is Being Made' in Trump era
Columbus, Ohio – January 2017. There's been a lot of introspection in the media and political circles since Donald Trump's surprise victory in the presidential election, with part of the narrative being that coastal elites missed Trump's appeal to many in the middle of the country. So for New York Times columnist David Brooks, just where is a good spot to see Where History Is Being Made at the dawn of the Trump Era? Look no further than our fair city. Read more in Columbus Business First.
---
thinkCSC Names Craig Carrigan 2016 Chuck of the Year
Columbus, Ohio
– December 2016. Each year, thinkCSC employees anonymously nominate one of their peers for "Chuck of the Year." During our annual thinkCSC party, thinkCSC President Tom Hastings reads each nomination aloud. This is a great exercise in which each of us gets to hear what others think about a specific co-worker. Most nominations tend to be humorous, or at least that's the author's intent, which tests Tom's comedic timing, as writing and delivering humor are two entirely different skills. The award is earned by the thinkCSC family member who best exemplifies and consistently upholds Chuck's character and personality. We are pleased to congratulate Craig Carrigan as thinkCSC's 2016 Chuck of the Year. Congratulations, Craig, and thank you for so adeptly representing our company culture and values.
Previous winners of the Chuck of the Year award include Tony Capalino (2015), Mike Jenkins (2014), and John Larger (2013).
Read more about how thinkCSC developed the Chuck of the Year award.
---
Columbus one of 10 rising U.S. cities where homeownership is affordable
Columbus, Ohio – December 2016.  Curbed has named Columbus, Ohio as one of 10 cities where homeownership is affordable. Citing the city's tech scene and our recent Smart City Challenge win, Columbus makes the list with a median home price of $189,900. Read more.
---
Columbus ranked No. 5 large college city in America
Columbus, Ohio – December 2016.  WalletHub has included Columbus in their 2016's Best College Towns & Cities in America list. Columbus comes in No. 5 in the "large city"  based on 26 key indicators of academic, social and economic opportunities for students. Read more.
---
Columbus No. 6, Best Cities for Conferences 2016
Columbus, Ohio – November 2016.  Hosting a successful conference starts with choosing the right venue. But in order to decide where to hold your event, you'll need to consider several factors. Will there be enough hotels available to accommodate your guests? Will the venue be close to local restaurants and bars? To answer these questions, SmartAsset ranked the best cities in America to host conferences. Read more.
---
Ohio Makes List of "Best States to Do Business"
Columbus, Ohio – November 2016. Ohio has moved up the Best States rankings in five straight years from a low of 38 in 2011 to No. 11 this year. Credit lower business costs and a dramatically improved economy. Five-year economic growth was second worst in the U.S. in 2011 and now is ninth best. Ohio ranks No. 1 in Forbes quality of life metric thanks to low living costs, short commutes and a plethora of top-rate colleges and cultural and recreational opportunities. Read more.
---
thinkCSC Welcomes New Business Development Manager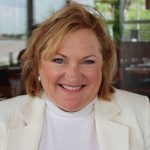 We are proud to announce the addition of Debbie Long to the thinkCSC family as thinkCSC's Business Development Manager. Debbie is a central Ohio native who has spent the past 18 years working in sales, service delivery and leadership roles at several local information technology firms.  Debbie joined thinkCSC on September 19.  Her favorite part of her job is introducing new clients to the thinkCSC family. Debbie and her husband live in New Albany and have four sons.  In her spare time, Debbie enjoys reading, attending her husband's rock band performances and cooking.
---
Columbus Wins Smart City Challenge
Columbus, Ohio – July 2016. Columbus will be the U.S. Department of Transportation's Smart City. The city beat out six other finalists for the competition to receive $50 million in grant funding from the federal government and Vulcan Inc. to develop Columbus into the nation's proving ground for intelligent transportation systems. Read more.
---
Columbus Region Ranks No. 5 Metro Area by Site Selection Magazine
Columbus, Ohio – March 2016. Moving up two spots from its ranking last year, the Columbus Region took the No. 5 spot on Site Selection magazine's 'Top 10 Metro Areas' list, boasting 108 new and expanded facilities in 2015. The Region has been in Site Selection's 'Top 10 Metros' list four years in a row, climbing in the rankings with each year. In years 2012, 2013 and 2014 the Columbus Region ranked No. 10, No. 8 and No. 7 respectively. Read more.
---
CPO Opens Vanburen Shelter
Columbus, Ohio – January 2016. As longtime supporters of CPO, we are honored to have played a small part in helping CPO open the Vanburen shelter and applaud them for their hard work in protecting the most vulnerable in our community.
"I know it seemed like unorganized chaos, as IT jobs usually go, but because of your hard work in the last couple of days 11 homeless people are off the streets tonight and in their new warm homes with 89 more to follow. I appreciate it as does the rest of our team. Thank you for all the work!" – Rod Suman, Community Properties Ohio IT Manager.
Learn more about their efforts.
---
thinkCSC Recognized for Outstanding Service 
Columbus, Ohio – December 2015. thinkCSC is proud to announce our selection for the 2015 Outstanding Service Award by Columbus Business First. Read more.
---
thinkCSC Redesigns NOC
Columbus, Ohio – November 2015. thinkCSC has completed a redesign of their Network Operations Center (NOC), making room for nine additional engineers. Read more.
---
Columbus Ranks High for Millennials
Columbus, Ohio  – September 2015.  Money named Columbus as one of the top five cities for millennials. Columbus is the only Midwest town to be listed. Read more.
---
thinkCSC Announces New Partnership with EMC
Columbus, Ohio – October 2015. thinkCSC is proud to announce a partnership with EMC. thinkCSC is now authorized to sell and support EMC's VNXe line of SANs. Learn about thinkCSC Partners here.
---
Columbus Named One of the "Top 7 Intelligent Communities of 2015" 
Columbus, Ohio – March 2015. Columbus has been named a "Top 7 Intelligent Community" for 2015. The selection of the Top7 Intelligent Cities is a 10-month process that begins with nominations of cities around the world. This year's theme was "The Revolutionary Community." Read more.
---
Windows Server 2003 Nears End of Life
Columbus, Ohio – January 2015. Support for Windows Server 2003 will end July 2015. thinkCSC is providing support to help businesses transition to new servers. Read more.
---
Columbus Chamber of Commerce Features thinkCSC in Member Spotlight
Columbus, Ohio – June 2014. Tom Hastings talks to the Columbus Chamber of Commerce about thinkCSC's efforts to help clients exceed their goals by making wise and customized IT decisions in the most economical way. Read more.
---
thinkCSC Adds Microsoft Lync to Collaboration Offerings
Columbus, Ohio – May 2014. Lync 2013 is now available to those that are using CSCloud Hosting Services. CSCloud Hosted subscribers who have agreed to use Lync services will have full access to Lync 2013 for Windows or Lync 2011 for Mac. Read more.
---
thinkCSC Partners with Nimble Storage
Columbus, Ohio – January 2014.  thinkCSC has partnered with one of the most successful pioneering storage companies: Nimble Storage. Nimble has developed a unique way of optimizing the best of both disk and flash storage options into a simple, easy-to-use storage solution, creating a "Hybrid Storage" technology that we believe will provide a significant advantage to our clients. Read more.
---
thinkCSC Partners with Anchor
Columbus, Ohio – August 2013.  thinkCSC has partnered with Anchor to provide SyncedTool to ensure clients have the highest protection against security risks inside and outside of the company. Read more.
---
Tom Hastings Featured in Columbus CEO Magazine
COLUMBUS, Ohio (09/23/2013) – Tom Hastings, thinkCSC's CEO, is featured in October's Columbus CEO Magazine, talking about how thinkCSC is turning the traditional IT services business model on its head. The full article is available in the October 2013 issue. You can subscribe to the magazine here. Read More
---
thinkCSC Recognized as Best Information Technology Consultant Company

Columbus C.E.O. Best of BusinessCOLUMBUS, Ohio (10/12/12) – Computer Site Columbus (thinkCSC) has been voted Best Information Technology Consultant by readers of Columbus C.E.O. The magazine polled its readers to determine leading Columbus businesses in more than 75 categories. The results are published in Columbus C.E.O.'s November 2012 issue in the "Best of Business" section. Read More
---
thinkCSC Appointed to Ingram Micro's Venture Tech Network Council
Innovative Solution Provider Joins Leading Technology Distributor's North American Community Advisory Board
Las Vegas, NV (01/11/2011) — thinkCSC, a Columbus based technology solution provider and a member of Ingram Micro's VentureTech Network™ (VTN), has been appointed to Ingram Micro's 2011 North American VTN Advisory Board. Read More
---
Hastings Elected Chairman of EO Columbus
COLUMBUS, Ohio (01/04/2010) – thinkCSC President and Co-founder, Tom Hastings, has been elected to the position of Chairman for the Columbus Chapter of EO (Entrepreneurs' Organization). As the thought leader on entrepreneurship, EO supports successful entrepreneurs across the globe, with more than 120 chapters in 41 countries… Read More
---
thinkCSC Honored by TechColumbus
COLUMBUS, Ohio (11/17/2009) – thinkCSC has recently been honored with a nomination for the 2009 TechColumbus Innovation Award in the category of Outstanding Technology Team. Tom Hastings, thinkCSC President and Co-founder states, "TechColumbus is a leader of business development and economic growth for Central Ohio. For thinkCSC to be acknowledged by this well-regarded organization is humbling. thinkCSC is proud to work with … Read More
---
thinkCSC Recognized with Community Philanthropist Award
COLUMBUS, Ohio (05/15/2009) – thinkCSC's President and Co-founder, Tom Hastings, has recently been honored as a recipient of the Columbus Chamber's inaugural Community Philanthropist Award. Recognized for his seven years of assistance with many of the Chamber's initiatives, Hastings has given his time and energy in several positions with the Chamber's Small Business Council (SBC)… Read More
---
thinkCSC Awarded The Small Business of The Year by The Worthington Chamber of Commerce
Worthington, Ohio (05/15/2008) – thinkCSC has been awarded The Worthington Area Chamber's Small Business of The Year. Initiated in 1987, the Chamber's Small Business Person of the Year Award Program is one of the ways the organization demonstrates its support for small businesses and recognizes those who are succeeding, have shown growth and are involved in the betterment of the Worthington community… Read More
---
thinkCSC Appointed to the Columbus Chamber Board or Directors
COLUMBUS, Ohio (03/12/2007) – thinkCSC has been appointed to the Board of Directors of the Columbus Chamber of Commerce.
Tom Hastings, thinkCSC's President and Co-founder, states- "thinkCSC is proud to have been appointed to the Columbus Chamber's Board of Directors. We are eager to help The Chamber fulfill its mission to make Columbus the greatest city in the U.S. to both start and grow a business."… Read More